While out in my garden that day, I noticed something special had happened. You see, I had tried overwintering two Nasturtium plants, each a different variety. But by early to mid spring, both plants looked like they hadn't made it and so I tossed them into the compost bin. It turns out that they must have spilled into the lower left corner of the bin because I found them to be green and thriving there! I left the one Nasturtuim that I recognized as the dwarf variety where it was, but the 'Empress of India' Nasturtium was too much inside the bin still and so I removed it. It is now transplanted in the middle section of the garden not too far from the willow tree where it is less likely to be injured or lost. Another pretty plant that's a volunteer and growing against the compost bin is Malva. It's an annual which is closely related to the Hollyhock and it sports these purple and white flowers. I normally have a few that come up every year in my big garden.

Well, here in Kentucky right now, Spiderwort is in bloom and it's been filling up my flowerbed at the side of the house. I like Spiderwort and its glowing purple petals compliment the daisy-like Feverfew that has also helped itself to filling my flowerbed. Every year I'm blessed with an abundance of Feverfew and this prolific annual herb is easily controlled if so desired. And I don't want to leave out Rose Campion. This biennual with its hairy grey foliage and white blooms has made its way from the bed to the front corner of the house along with the Rudbeckia which will flower later.

My dad's Rose bushes are heavy-laden right now with blossoms of different colors while most of his Dianthus are past their peak. However, I have a potted Dianthus that I had moved from my front porch to a sunnier location and they're still in bloom. And speaking of moving things, I finally transplanted those Portulaca sprouts to a clay container outside where they soaked up some of the rain that came Saturday. They like it sunny and so I had put them in front of the greenhouse where my potted Dianthus reside.

June here is so full of life and color. In the middle of the yard I have a cherry tree with fruit that has been ripe for the picking (and eating). Near this tree is a bird bath where I saw two honey bees drinking water from it. And Sunday, while driving home from church, I spotted Chicory growing along the roadside. This herb has such pretty blue blooms and is one of my favorite things to see on a drive. And then on Sunday evening, resting on my Mexican Terragon herb at the front porch, was a firefly. These are just some of the special things that come to Kentucky this time of year. :)
It was a good weekend for plant shopping and so Saturday I visited my local garden center to do some browsing. There's so much in bloom right now! The temperature was perfect as I checked out the herbs, cherry tomatoes, Asiatic lilies, Impatiens, Portulaca, strawberries and other stuff. What I ended up bringing home were a 'Jack O Lantern' pumpkin start and 'Sugar Baby' watermelon start. Yum. I've grown pumpkin before and even Birdhouse gourds, but this is the first year that I've tried growing watermelon and I'm sure the blooms will be lovely. The good news is that after I transplanted both starts that afternoon, it rained a while later. That rain was not only good for the starts, but also for the corn sprouts that have come up.


After the corn was planted, I sprinkled some mammoth Dill seeds in an open space back at the other side of the garden where I hadn't transplanted any sunflowers. Then sort of in the middle by the corn, I transplanted the Nasturtium and Cilantro starts. And good news, I discovered a total of three volunteer Borage sprouts in the corner of my garden by the Dogwood tree which is opposite of the corner by the compost bin. This is exactly where I want to have Borage come up. I hoed one up by mistake, though, so now there's two. :p Borage is a favorite herb of mine. The pale green hairy foliage is visually interesting and the plant produces mostly blue, although occasionally pink, small starry blooms that the honey bees like. It does well in a container, too.

Another discovery at the garden is a Tickseed Coreopsis that Dad planted because he and my mother had some excess that they wanted to get rid of. Well, it's welcome here, and he put it in a good spot. At the edge of my garden close to the willow tree is a post that hangs a hose hookup. My butterfly house and bee house are both nailed to that post courtesy of Dad. And he planted the T Coreopsis close to that post, and so the yellow flowers that the plant will produce come summer will compliment the bug houses. A nice little surprise was waiting for me almost beneath the T Coreopsis. It appeared to be a weed at first, but then I recognized that it might be something I want. It turns out that it's an Echinacea! And who wouldn't want one of those? When this medicinal herb produces its purple daisy-like blooms, it will also look good by the bug houses. By the way, I want to mention that I still have that wren house at the opposite edge of the garden facing the willow tree, but it seems empty of birds right now. Hopefully they'll come. And speaking of birds, I've seen baby Blue Jays learning to fly. Mama Bird wasn't happy that Dad and I were so close to her one offspring that she was watching over.

Well, the fireflies are back. A couple of them got into my hair yesterday evening, but they're not lighting their tails yet since it's too early. And I also saw a June bug flying about at my front porch hitting its hard shell against the bedford stone wall as they tend to do. I like when those things appear and they're an interesting reminder to me of warm summer evenings. Now last thing I want to mention is that I picked out a plant over the weekend. It's Mexican Terragon, a lovely herb grown as an annual here in Kentucky and which produces pretty orange-yellow blooms. This plant likes part sun and has been added to the partially shaded front porch area beneath the porch light where it will be enjoyed along with the other warm weather pleasures this gardening season. :)
It was a few days ago, May 15th, I believe, that Dad tilled the other half of my garden. But it was Friday evening, shortly after work, that Dad's new wheelbarrow was drafted for the task of carrying sunflower starts from the greenhouse to their new home by the compost bin and Iris, and my big shovel was used for digging the holes. Next, corn was sown at the other side of the garden. The corner edge of the hoe was used for creating ridges that I dropped the kernels in and then they were covered up with dirt. I simply walked on the rows with my shoes to press the soil down on top of the corn. And I want to say that it was quite a bit of corn that was sown and several rows were made to make room for all the kernels. It should be an abundant crop! I can envision in my mind now the moon hanging above my corn stalks come autumn. :)


The only other person who showed up for practice was the team leader and he mentioned needing help with running lights during service. I expressed an interest in doing it and so he spent that time training me. After that, it was back home again to water the sunflowers in my greenhouse and the pots on my front porch. I noticed that Dad's tomatoes weren't in the greenhouse anymore which probably meant that they are already transplanted into the ground. It was confirmed to me later that this is true. So I decided that maybe Saturday I'll sow my corn. :)
I left work an hour early today instead of the normal five o'clock time due to a Media Ministry team practice at my church across town which started at 6:30pm. The Media Ministry is responsible for video-taping the services so that they can be seen on the web and television. Three cameras are used and I operate camera number 2. Other positions include Board Operator, lights and sound, and a computer program called Media Shout. The purpose of leaving work early was to avoid the heavier traffic and first stop after I left was home to drop off some things and retrieve purse, debit card and miscellanous stuff. Once across town I stopped at a McDonald's to get dinner. Inside I found a sunny table and leisurely ate a burger, fries and sundae. The person who made my sundae was generous with the fudge. :) When done, I purchased a coffee with sugar and cream to go. Good thing there was still ample time left when I arrived at the church before practice began because that coffee was hot.



It's been a while since I posted, but here we go:

The weather here in Kentucky has normalized a bit, I think. After a long cold winter, spring has had its warm and cool days with much rain. Right now the Snowball Bush is laden with white spherical flowerheads while the green sunlit field serves as a background. Meanwhile, white clouds dot a chilly blue sky.

You may wonder how the garden is doing. Well so far, my dad has tilled about half of the garden. He'll do the rest later, which he'd like to have done before May 15th, our frost date. Some things have been removed since I wanted a do-over. So what remains is the Cup Plant, which won't bloom until later in the summer, and the Iris, which are sporting lavender flowers right now. Speaking of Iris, this apparently is a good year for them. On the left side of the house towards the back, I've noticed that the Iris growing there are crowned with their large white blooms. And then on the opposite side of the house are yellow Iris. One of them was set apart and particularly taller and showier with a deeper yellow flower color, so it is obviously a different yellow variety (probably a newer hybrid, too, I suspect). My variegated Iris sent to me from Texas is located in a backyard flowerbed that Dad takes care of. Its blooms are a dark lavender and play off the lavender blooms of the two perennial Phlox that I purchased last year and which also reside in the flowerbed. These Phlox blooms seem to glow when the daylight fades. Dad also has two Heuchera plants there which contrast nicely with the green foliage and the purple flowers. One Heuchera has chocolate-green foliage and the other has tan leaves which are blushed with a rose coloring. Dad had purchased and planted those a year or two ago. This year, however, he planted a third one and its green with deep rose-pink flowers. The other two Huechera have not bloomed yet.

Orange Poppy flowers have opened up out in my parents' yard and on the side of my house. I like Poppies and may plant the red variety (Papavar rhoes) in my garden again someday. Right now my plans for the garden include corn and Sunflowers. In fact, back in April, I started Sunflowers from seed in the plant room inside my house. I kept them in there until it was obvious that they weren't getting enough light even though they were in front of a sunny window. So then I transported them into the greenhouse. Dad has made use of the greenhouse, too, by storing three tomato plants inside until its time for them to go into the ground. He likes to grow tomatoes every year and I think 'Better Boy' might be a favorite of his.

Other seeds I've started in the plant room are Cilantro and Nasturtium before moving them into the greenhouse, also. The greenhouse, however, was just too hot for them and most of them died. The rest are kept safe in in a cooler part of the greenhouse or in the plant room. The Sunflowers are fine, though, and getting tall. In fact, since they are of the mammoth variety, they're going to get a lot taller.

As for the corn, I'll direct-sow it into the ground when the time comes along with the mammoth Dill seeds I purchased. I like Dill and it's easily grown here. It smells good and the airy blooms are beautiful when capturing the gleaming sunlight. And the corn, by the way, is the bi-colored sweet 'Peaches and Cream' hybrid. Sounds yummy, right? And there'll be more than enough to share at harvest time and I can even see how the squirrels take to the bounty.

And one more thing: I started Portulaca from seed in an egg carton inside the plant room. Their sprouts are quite tiny and will be transplanted with care. The plan is to put them in a container on the walkway in front of the greenhouse. In summer, that spot can get scorching hot and that's the way Portulaca likes it. :)
Hello All
I heard baby wrens in my wren house this afternoon. :)
I saw my first female firefly tonight. The females are wingless and release pheromones to attract the male. I noticed that she has a light at the end of her body, too.
Earlier in the evening I had a girls night out with Rita and Bekah. We met up at a theater to see a movie. :)
Out in the small circular bed in the front yard, the coreopsis has grown big and is in flower. Those bright yellow faces contrast with the magenta blooms of the Sweet William that's growing among it. Over at the corner of the house in the yew bed there are a couple of volunteer rose campion starts residing in the mulch. They're near the spiderwort which is in bloom at this time, also. Then at the start of the southwest facing bed, the 'Snow Hill' salvia has put forth some nice white flowers while catmint just thrives. The poppies there (which are not the common field poppy) have long shed their fancy orange petals and 'Alaska' shasta daisies have budded.
In the weedy fairy garden there is some large feverfew growing. I've not worked on that area yet this year, but when I do, I plan to pull up that feverfew because its overpowering that little garden. The tall yellow-blooming columbine, by the way, is leaning over and the flowers remind me of stars. And my potted tansy fern next to the unattached garage is doing rather well. Then peeking around the corner from behind that garage is the rose bush with fading blooms whose pink petals compliment the candy colors of the Sweet William that are taking over the wildflower bed. Larkspur is near the rose bush and somewhere on down the bed, a calendula flower is open. While I'm out there, a wren is perched on the rim of the compost bin in front of which a hollyhock has been budding. It's quite a small bird.
Although the wildflower bed is yet to be weeded, the main garden got taken care of the second Saturday of May. Dad didn't till it this year; instead I mostly hand-pulled the weeds and hacked with the hoe. I sowed seeds, too, which are 'Tangerine' sunflower (left over from last year) and some other sunflower (given to me), near the compost bin, wild cowslip in the shade of the corkscrew willow, and common primrose by the foxglove. Those foxglove, by the way, have been beautiful. They're still in bloom in white, cream and shades of purple. Some other seed I've sown is field poppy (although I have some mature plants). It was seed I'd kept for awhile so time will tell how well they'll germinate.
I had mistakenly said in a previous entry that I had breadseed poppies come up, but I've discovered that they're the field poppies instead (which are welcome in my garden since they're herbal and have eye-catching red flowers). The poppies are at the edge of the garden in front of my strawberry patch, and their petals blend with the red color of the ripening berries. The new lovage I bought this year has been transplanted near the foxglove, and the borage by the butterfly house is growing nicely overall. Another borage that grew by the cup plant has been in bloom a long time and the cup plant itself is big. Close by are pea plants which came up from seed I planted last summer or fall. 'Bouquet' dill is sparse (since I weeded some last year) while yarrow has taken over quite a bit of area and is topped with clusters of white blooms. For a while, I would see lady bugs on the yarrow, but it's been days since I've seen one visit it. There's also a clump of yarrow with flowers tinged in pink or lavender. Speaking of lavender, my lavender herb has buds on it, and the sweet woodruff in the shade of the willow tree has spread. A wren house is up on a pole across from the willow and I saw a black bird perched atop of it. Above that are telephone wires where two robins were perched. The black bird wasn't gone long when a wren went inside the house. The robins didn't stay long, either, after I noticed them.
The other side of the garden has a lot of bare space, but there are healthy bunches of common dill- plus little starts of it here and there. And sprouts of 'Bells of Ireland' have taken claim to the territory, also, as well as nasturtium which obviously has reseeded itself since I haven't sown any this year- at least not yet. ;) Meanwhile, ladies mantle is capped with yellow/charteuse flowers.
A hyssop came up on its own in one of my little pots and I've got it sitting by my succulents in front of the greenhouse; and some catchfly has taken up residence in a couple of places near both corners behind the house. Each catchfly is growing by some feverfew. As for the cherry tree, I've been enjoying its ripe fruit.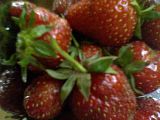 It's been warm enough now to turn the AC on and I've been out in the sunshine checking out the garden and picking strawberries. Yes, they ripened. But for now, let me share highlights about what's going on at the front of the house. First, I'll mention that the two potted dianthus on the front porch have been blooming well for me this spring, although they're now past their showiest peak. They liked the ample rain we've been receiving. And the rununculous in its big pot has dropped all its petals while three of the sweet pea seeds planted in that same pot have done sprouted upward and have leaves and tendils. Some new plants I've purchased that have been sitting around the porch for a while now are lobelia, sweet alyssum, 'nutmeg' scented geranium, sweet marjoram, and variegated lemon thyme.